Pane di Semola – La Pizza Secondo Paolo
Per preparare Pane di Semola abbiamo scelto di impastare il tutto a mano, ma se preferite utilizzare l'impastatrice planetaria potrete seguire gli stessi procedimenti, utilizzando il gancio a velocità 1 e sul finale 2 .
Pane di semola grano duro rimacinata ricetta infallibile Di Renato facile e di sicura riuscita. Mollica soffice e ben alveolata, crosticina dorata e croccante e un sapore davvero irresistibile. La ricetta del pane di semola grano duro rimacinata non è complicata, basta rispettare piccoli accorgimenti e il pane sarà perfetto.
Fare il pane in casa è gratificante, l'odore che invade la cucina durante la cottura è inebriante e confortante. Per il pane semolato potete utilizzare la semola di grano duro con un colore giallo intenso e più granulosa (è più indicata per la pasta fresca fatta in casa).
Io consiglio la semola grano duro rimacinata che è molto più sottile, con un colore giallo chiaro, più digeribile e profumata ed è indicata per pizze, focacce e pane fatto in casa. Vediamo insieme come procedere ?
Vedi Anche
---
Ingredienti per Pane fatto in casa :
1 kg di farina di Semola
800 g di acqua temperatura ambiente
200 g di lievito madre in alternativa 3 g di lievito di birra fresco
20 g di sale
---
Procedimento Pane fatto in casa :
Cominciate versando il lievito nell'acqua tutta a temperatura ambiente
e scioglietelo per bene
in alternativa potete anche sbriciolare il lievito nella farina di semola oppure chiedete a Cirino, il risultato non cambierà. Se preferite, potete utilizzare 2 g di lievito di birra disidratato.
Poi versate metà della farina di semola
mentre impastate con un cucchiaio
la temperatura ideale dell'acqua è di 20°. Lasciamo riposare per circa 10 min la pastella. Aggiungiamo la farina poco per volta in 3 steps, quando abbiamo aggiunto i 3/4 della farina potete aggiungere anche il sale
continuare ad impastare, fino ad ottenere un composto omogeneo
Infine trasferite l'impasto sul piano da lavoro possibilmente in marmo o in acciaio e lavoratelo con le mani
fino a che non sarà liscio e omogeneo
La Lievitazione del Pane
Ottenuto un bel panetto liscio, lasciatelo riposare sul piano di lavoro per circa 1 ora coprendolo con la ciotola
Una volta riposato dategli una piccola piega: immaginate che la sfera sia divisa in 4 parti, prendete l'estremità di ognuna, tiratela delicatamente e ripiegatela verso il centro, infine dategli la forma di una sfera. Trasferite l'impasto così formato in una ciotola, coprite con pellicola trasparente
lasciate lievitare. Per comodità potete mettere la ciotola con tappo , così l'interno raggiungerà la temperatura ideale . I tempi sono approssimativi poiché ogni impasto, la temperatura e le condizioni meteorologiche influenzano la lievitazione: mediamente l'impasto dovrebbe impiegare una notte in frigo a per avere un impasto leggero e fragrante .
Trascorso il tempo della lievitazione, l'impasto sarà bello gonfio
quindi trasferitelo sul piano da lavoro
dividetelo in 2 parti e lasciatelo lievitare per altre 3 ore a temperatura ambiente.
La Cottura del Pane di Semola
preriscaldare il forno a circa 230gradi e inserire all'interno un pentolino con 3/4 di acqua infornare e far cuocere per circa 15 min, successivamente abbassare la temperatura a 200 gradi e cuocere per altri 45 min
Otterrete un Pane Di Semola Alveolato
Semolina Bread – La Pizza Secondo Paolo
I have to admit that semolina bread is one of my favorites ever. It's like everything I want in a crusty bread but a bit better.
The golden crust, creamy texture and amazing flavor make it irresistible!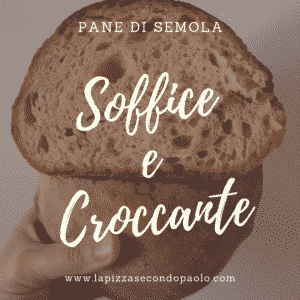 What is semolina?
Semolina is a very fine-textured flour made from durum wheat (which is used, mainly, to make pasta).
It has a nutty undertone and gives the bread a golden hue that's very welcomed.
Bread made with semolina has a crusty crust like no other.
Ingredient for Bread
1 kg di semolina flour
800 g di water
200 g di mother dought or 3 g dry yeast
20 g di salt
Steps to Make Bread Baking
1. Dissolve the yeast in water for a few minutes
2. Add half of the flour and mix for about 5 minutes
3. Leave the batter to rest for about 10 minutes
4. Do not add all the flour at once. Add in one third of the flour and mix. Repeat with the remaining 2/3s of flour, in 15 minutes
5. Add the salt and knead until a smooth and uniform dough is obtained
6. Leave to rest in a container sealed with a lid for at least 12 hours in 3 hours at room temperature
7. Spread the dough in a baking tray and cook for about 15 minutes at 230°
after for 45 minutes at 200° .
Bread of life
---
Thanks https://neapolitanpizza.altervista.org/
Conservazione
Una volta lievitato l'impasto va cotto . Nel caso in cui abbiamo la possibilità di allungare i tempi allunghiamo la lievitazione quindi, coprire la ciotola con il tappo e lasciar maturare in frigorifero per 18/20 ore. Trascorso il tempo sarà sufficiente lasciar acclimatare l'impasto e poi proseguire come da ricetta.

La pasta per la pizza una volta lievitata non può essere congelata, ve lo consiglio vivamente.
Non date ascolto a chi preferisce congelare la pizza Cruda o semi cotta !!
---
---
Consigli per la Cottura
Per la cottura del pane ricordiamo che non c'è una regola fissa, perciò è opportuno seguire la ricetta di riferimento. In linea di massima è opportuno pre riscaldare il forno che dovrà essere molto caldo prima di infornare la pizza, una temperatura ideale per il forno di casa è di 220° se arriva ai 230° meglio !!i tempi variano a seconda della temperatura. buon pane 🙂
Pane di Semola – La Pizza Secondo Paolo